Knife-carrying thief nabbed in N.J. car burglary, cops say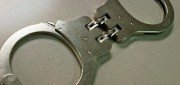 A 35-year-old was nabbed by officers moments after stealing from a car in Lopatcong Township, police said.
Charged is Alexander Becker, of the 200 block of Red School Lane, in Phillipsburg.
Police at 11:36 p.m. March 11 were dispatched to the 300 block of South Third Street for the report of two males inside a parked vehicle. When confronted by the homeowners, the pair ran, according to police.
Officers moments later nabbed Becker who fit the description provided by the victims. Becker was found wearing latex gloves and carrying a 6-inch switchblade knife, police said.
Also in his possession was a GPS system stolen …read more
Source: LehighValleyLive
(Visited 5 times, 1 visits today)